Welcome to the Marple Carnival Web Site
Thank You Marple! - £5,000 Presented to Local Charities in 2013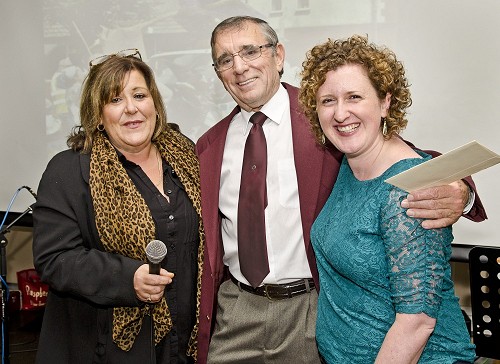 On Friday 11th October The Marple Carnival Charities Committee held its annual "Cheque presentation Evening" at the Marple Cricket Club. The purpose of the evening is to distribute the monies raised throughout the year to local charities and or good causes and this year I am pleased to report that the grand amount of £5,000 was distributed. The special award of £1,000 went to the "Friends of Marple Memorial Park". As stated, all monies raised go to local charities and a list of the recipients will be published on this site.
Besides giving away monies the evening also allows the Committee to enjoy themselves after all the work and to meet the other charity workers. Once again the Marple Hall Swing Band provided the music for the evening along with Lazlo Baby - part of Music in Hospitals volunteers. Both bands did a sterling job and were well received. The Tombola raised £90 during the evening and kicked off the fund for next year.
Finally, it goes without saying that none of this would take place without the hard work and dedication put in by the Committee and all the helpers including friends of Memorial Park, St. Johns, Parks Department, Police and PCSO's and of course the stewards who help keep the Procession moving. The list goes on and on and I apologise to those not mentioned, they know who they are.
On a slightly sad note I have to tell you that for personal reasons I will be stepping down as chairman at the AGM on 4th November. Although I have only been Chairman for 4 years it has been a very enjoyable time and I have met some lovely people. I can't thank the Committee enough for their help and backing during my time as Chairman and I wish the Committee continued success.
We are still looking for extra helpers so if you want to get involved and can spare a few hours a month please email our secretary. Thank you Marple for the support you have shown every year by turning out to throw your coins, it's this generosity and backing that makes it all worthwhile.
On behalf of the Committee and myself I wish you all a MERRY CHRISTMAS and a HEALTHY and HAPPY NEW YEAR.
John Wright, Chairman.
Marple Carnival Needs Your help again!
Following the retirement this year of four key committee members, including the Chairman and Vice Chair / Stalls Officer (on top of several long-term key members who retired last year too) the Carnival is probably at highest risk it has been in the last 20 years of not having enough volunteers to continue in 2014. So everyone who enjoys Marple Carnival and wants to see it continue next year and in the future - please think seriously about whether you can help.
If you feel that you can give a few hours a month and wish to get involved as a Committee member, or indeed can give up to 2-3 hours of your time on Carnival day, please ring John on 0161 427 8934 or come along to our AGM at the Conservative Club, Church Lane, Marple on Monday 4 November at 8.00pm.
If you want the Carnival to continue please help us by getting involved.
I look forward to hearing from you.
John Wright (Carnival Chair)